LOG IN to christianaudio.com (Scroll to Steps 1-4)
MAKING AN ORDER (Scroll to Steps 5-9)
LISTEN TO AN AUDIOBOOK (Scroll to Steps 10-18)
LOG IN to christianaudio.com (Steps 1-4)
1. Visit christianaudio.com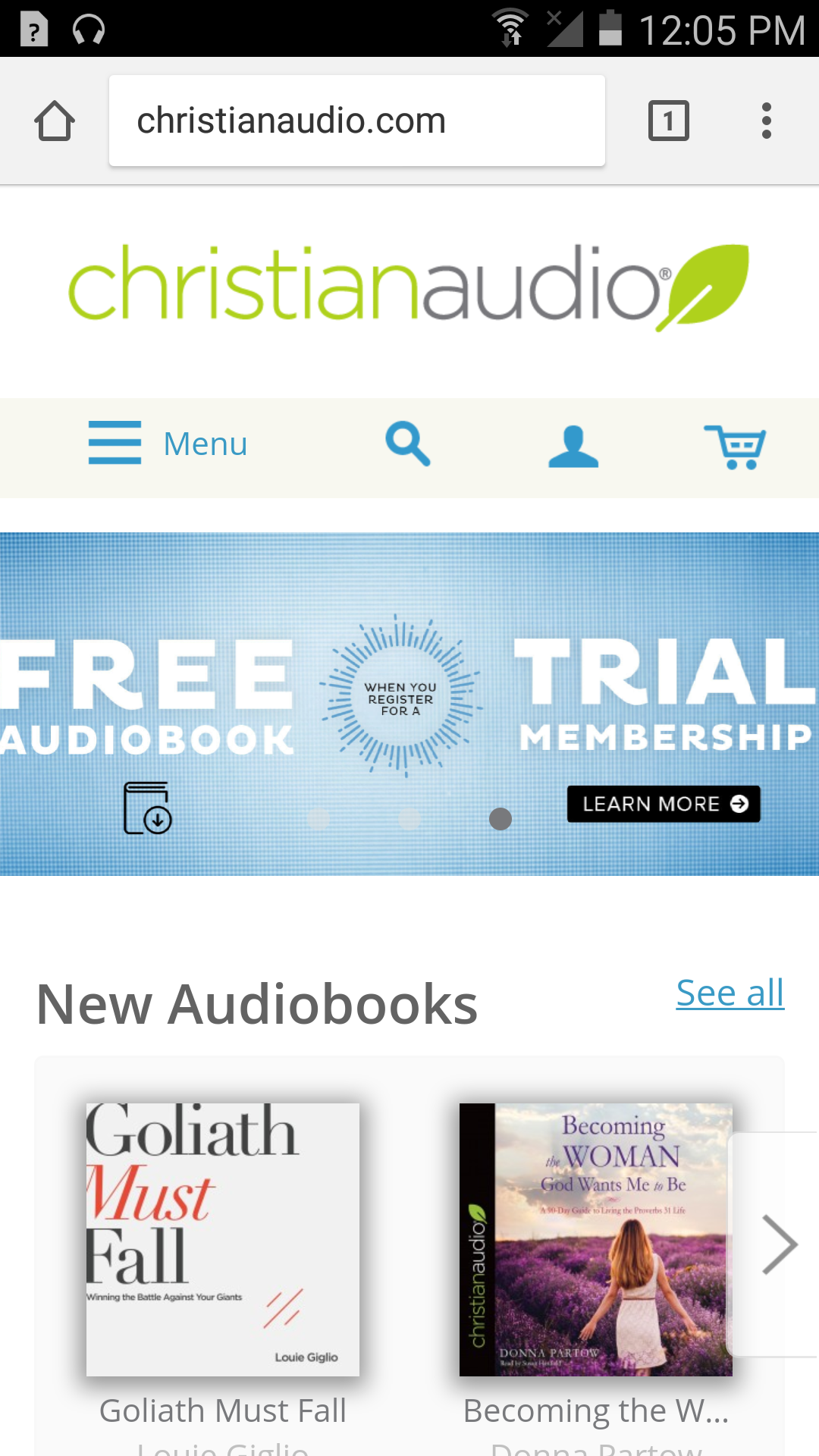 2. Tap the person icon 
 and then tap Log In.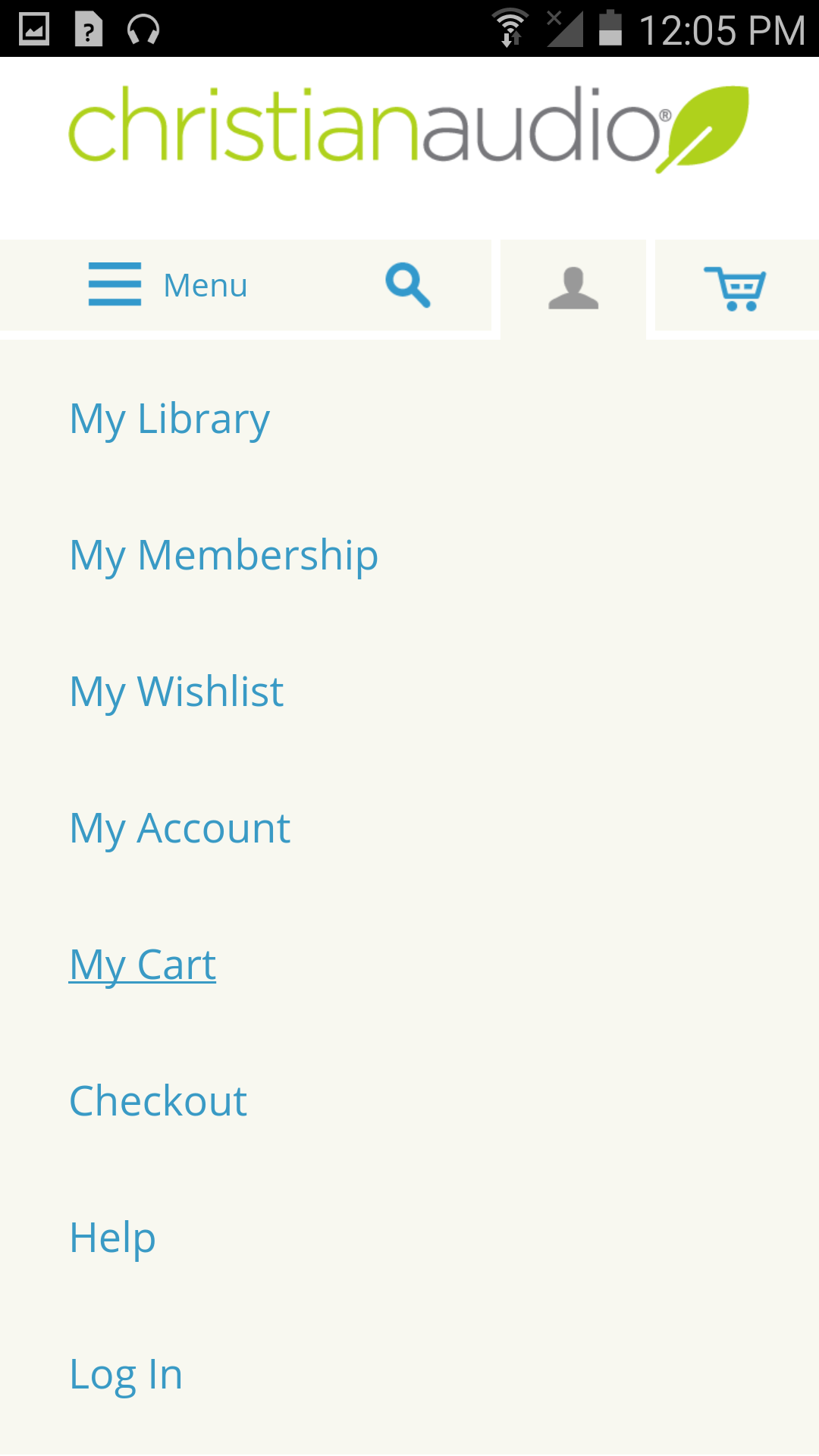 3. Log into christianaudio.com with your email address and password.
- If you do not have an account with christianaudio.com, you will need to make an account for Free, select the blue bar Register. (This will provide you with a My Library, to store your audiobooks).
- If you are unable to log into christianaudio.com. You may have had your email signed up for the newsletter only in order to receive the Free Audiobook of the Month. Your email address would have been subscribed to the newsletter but not have a My Library set up. You can check this by selecting Register. Put in your name, email address, and password. If you get the following message, then you know that you have an account and can select Forgot Password. If you do not get the message, then you can create the account.
There is already an account with this email address. If you are sure that it is your email address, click here to get your password and access your account.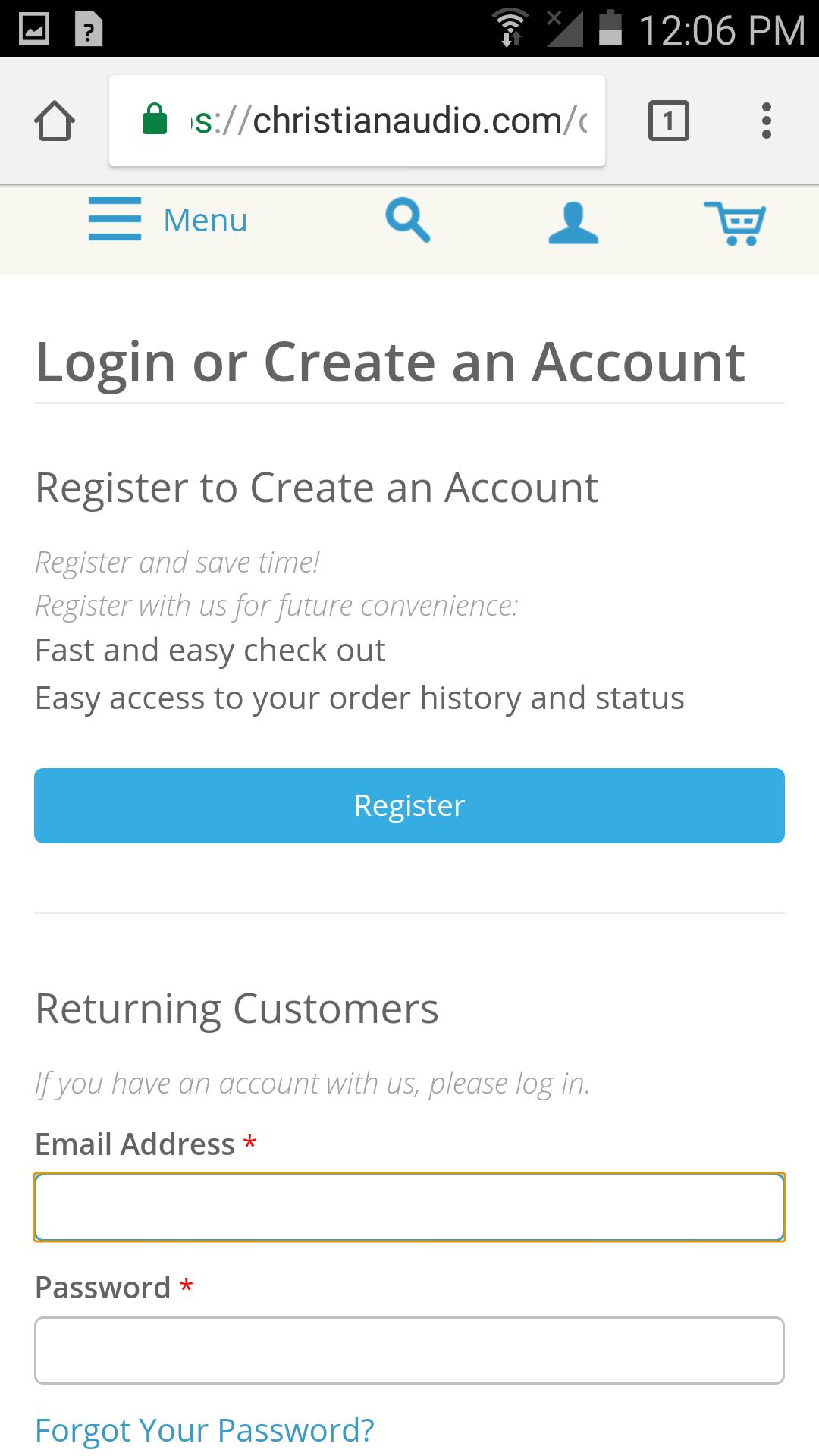 4. Find an audiobook to buy.
        A.  Select the Menu Icon 
 on the left to Browse for audiobooks by category
        B.  Click on the christianaudio logo to go to the main page and search for New Releases, Sale Items, Staff Picks, and Bestsellers.  
        C.  Use the Magnifying Glass icon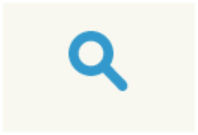 to search by Author or Book Title.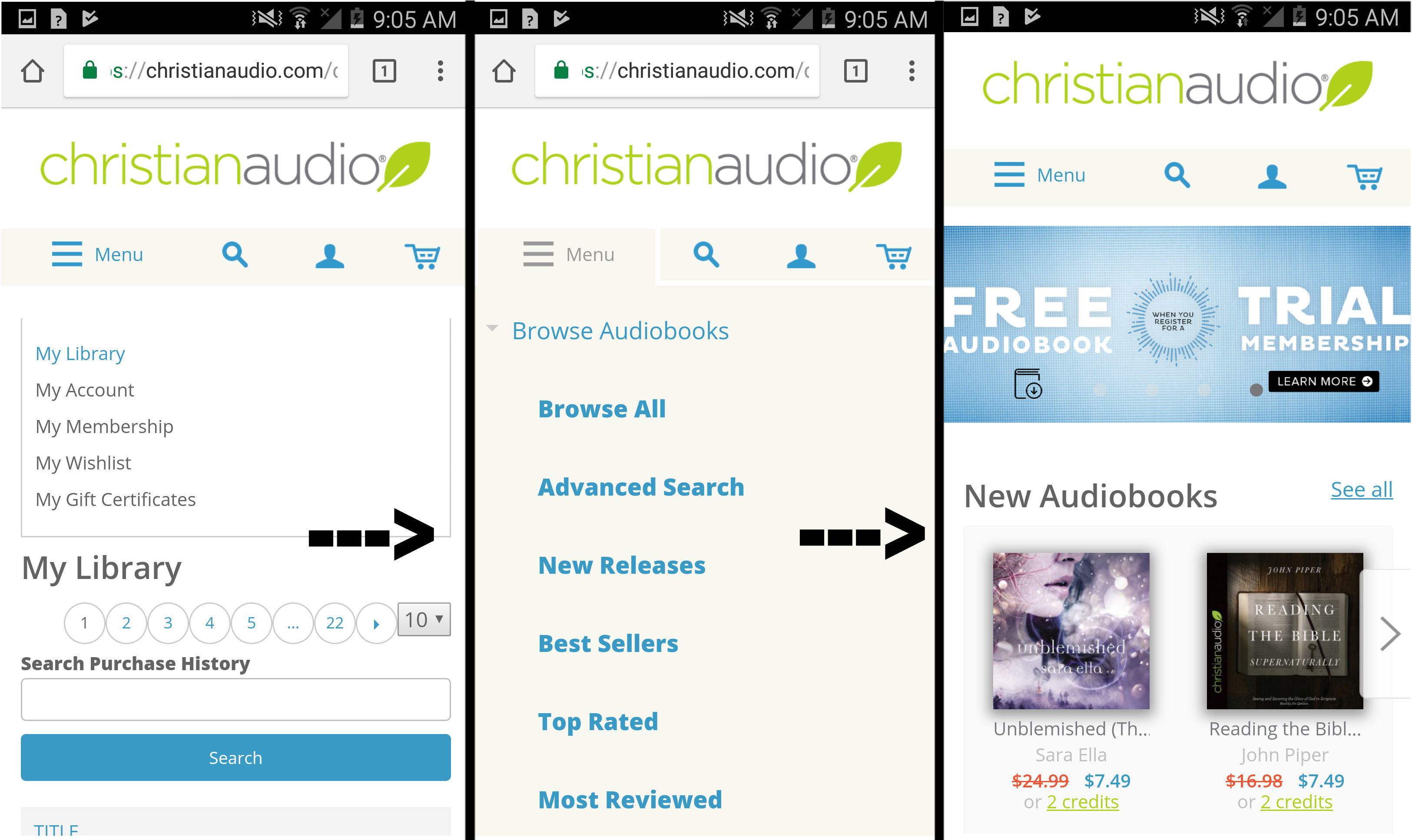 MAKING AN ORDER (Steps 5-9)
5. Find the Audiobook of your Choice. Select the blue BUY NOW button.

6. The system will prompt to see if you want to purchase the audiobook or continue shopping. To Purchase, select View Cart & Checkout.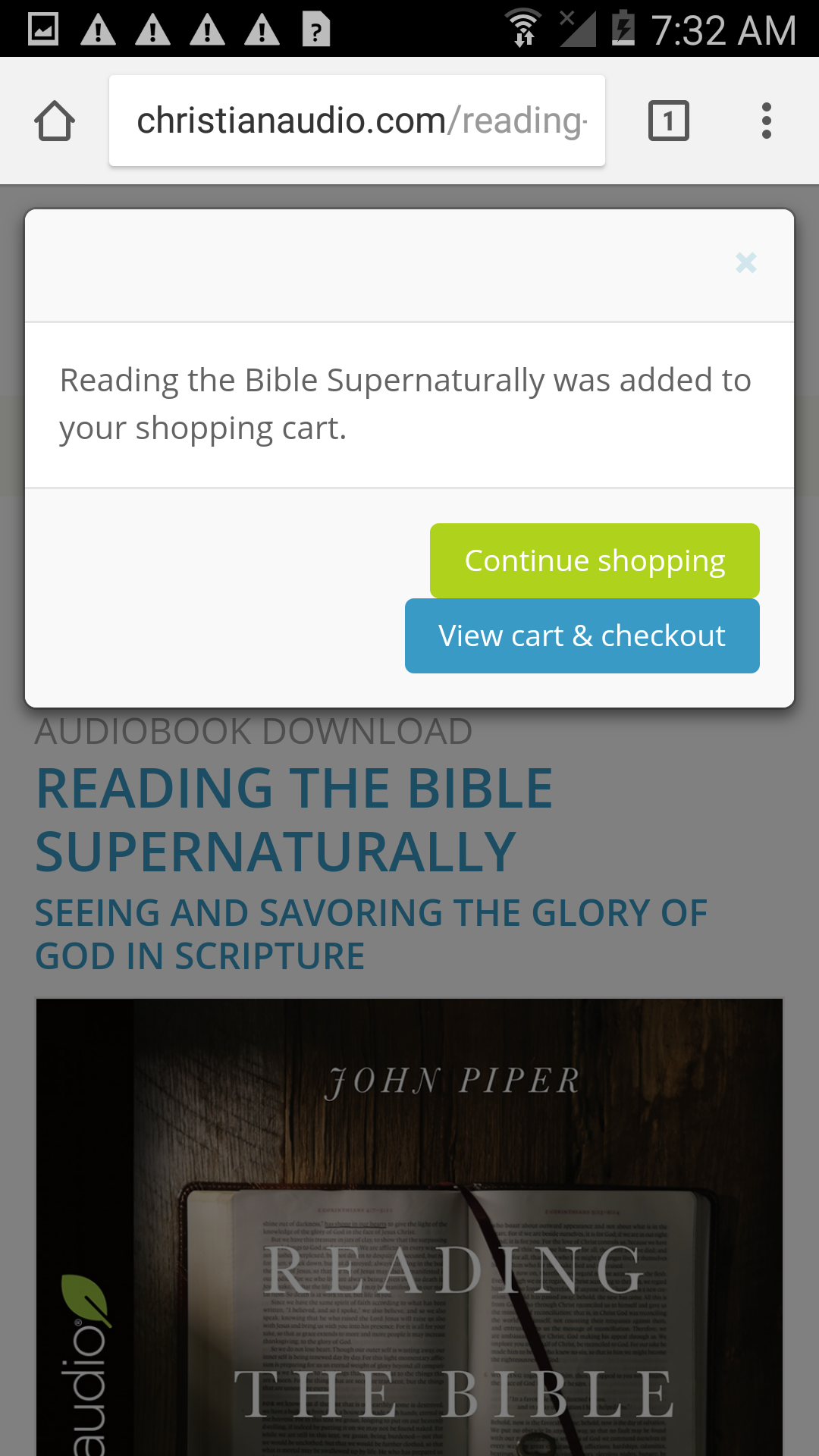 7. To purchase the audiobook, tap Checkout.
- If the audiobook is equal to or under your current Audiobook Credit Balance (If you pay for a current Membership or have had a previous Membership and have credits left over) then the APPLY CREDITS box will be checked. If the audiobook is worth more credits than your Audiobook Credit Balance, you will be presented to instantly renew your Membership in order to apply your current Audiobook Credit Balance plus your new Membership Audiobook Credits as well.
- If you have a Gift Certificate or Sale Coupon, you can enter it into the Discount Codes box. Make sure you select Apply or it will not reduce the price.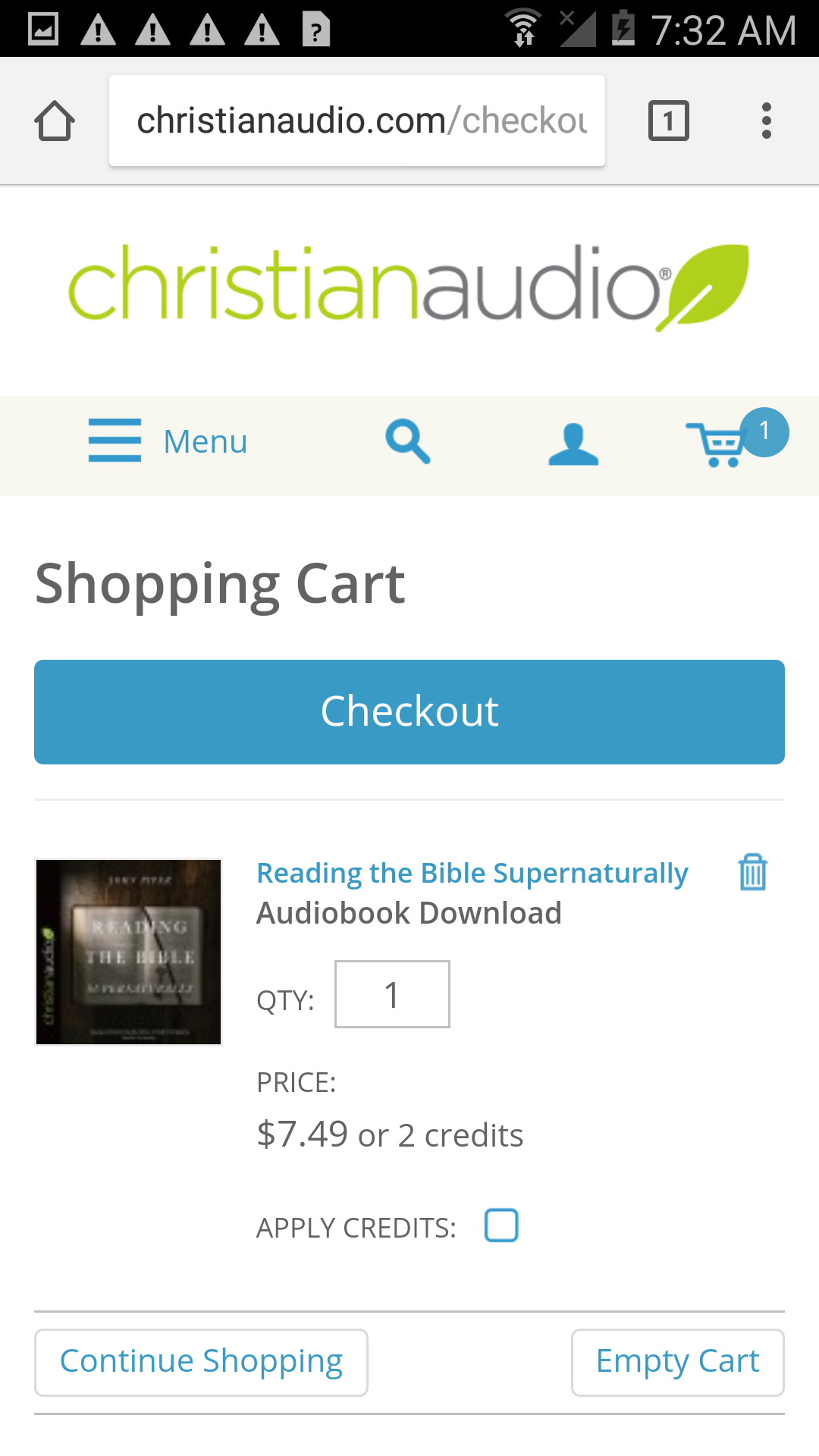 8. Follow the checkout process.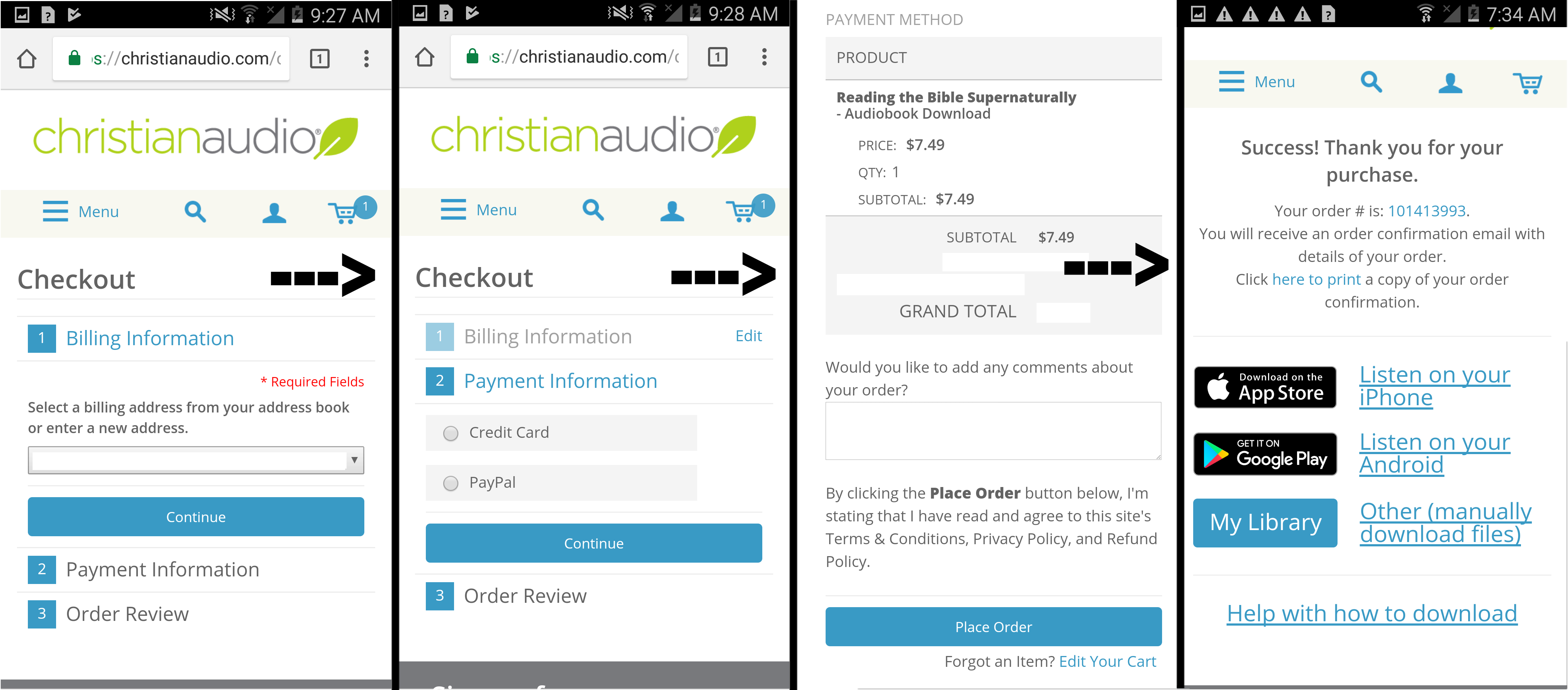 9. Success! Your Purchase is Done!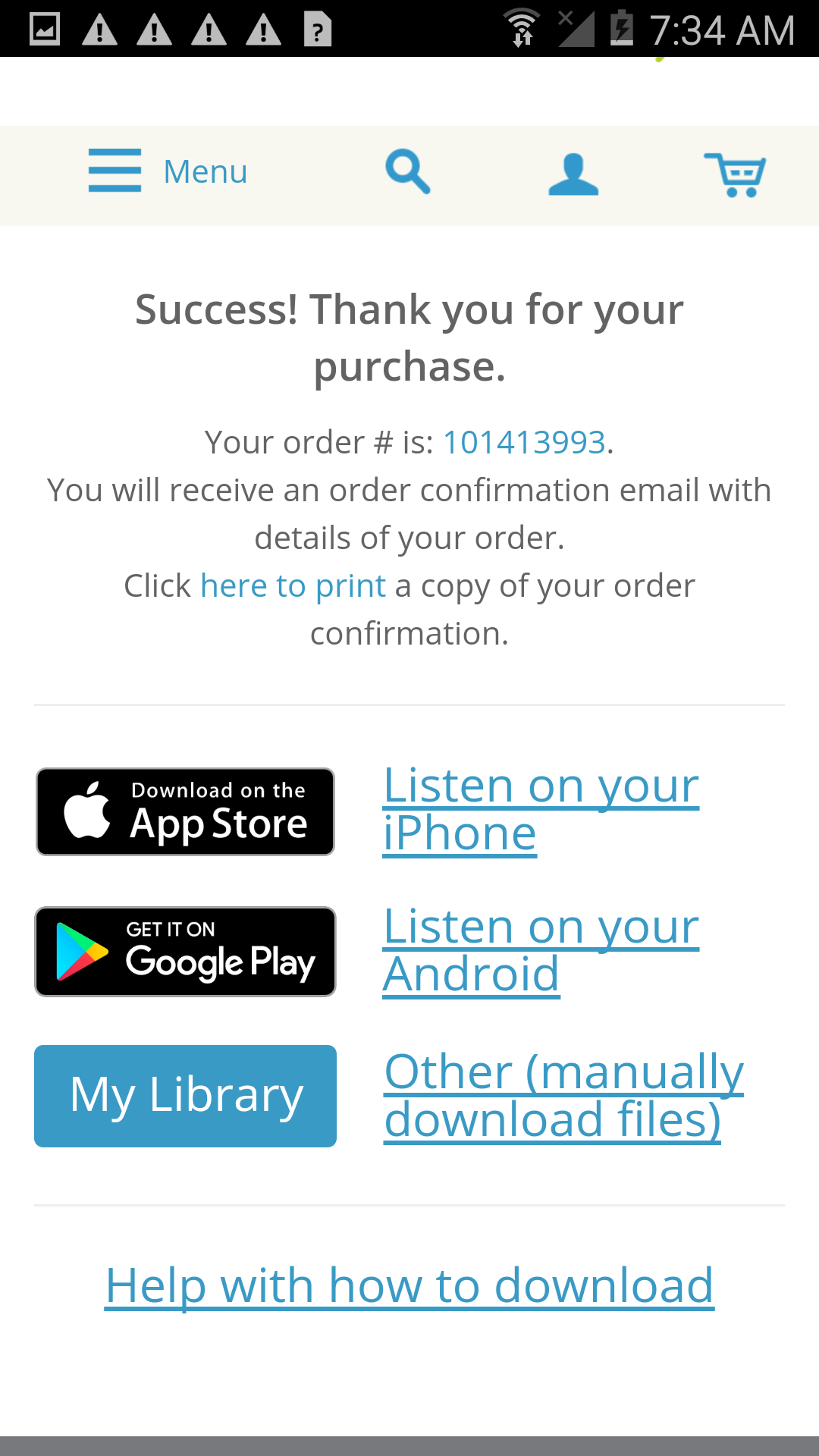 LISTEN TO/DOWNLOAD AN AUDIOBOOK (Steps 10-18)
10. As soon as you complete your order on christianaudio.com, immediately pick up your Android Device. Open our christianaudio App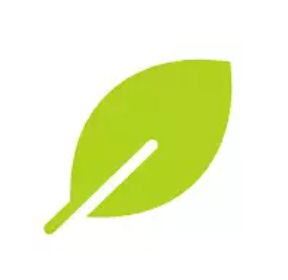 on your Android Device.
- For instructions on how to download the App, Click HERE, or use your Android Device to search your Google Play Store for the christianaudio App and download this icon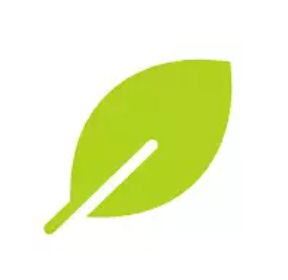 10. Tap on Sign In 
- If you in error, select the 'Demo Account' option, then you will not see your own My Library, this is just a Demo Account that will contain the audiobooks "Crazy Busy" and "A Place of Healing". To Sign Out of the Demo Account, tap Demo Account - Sign Out.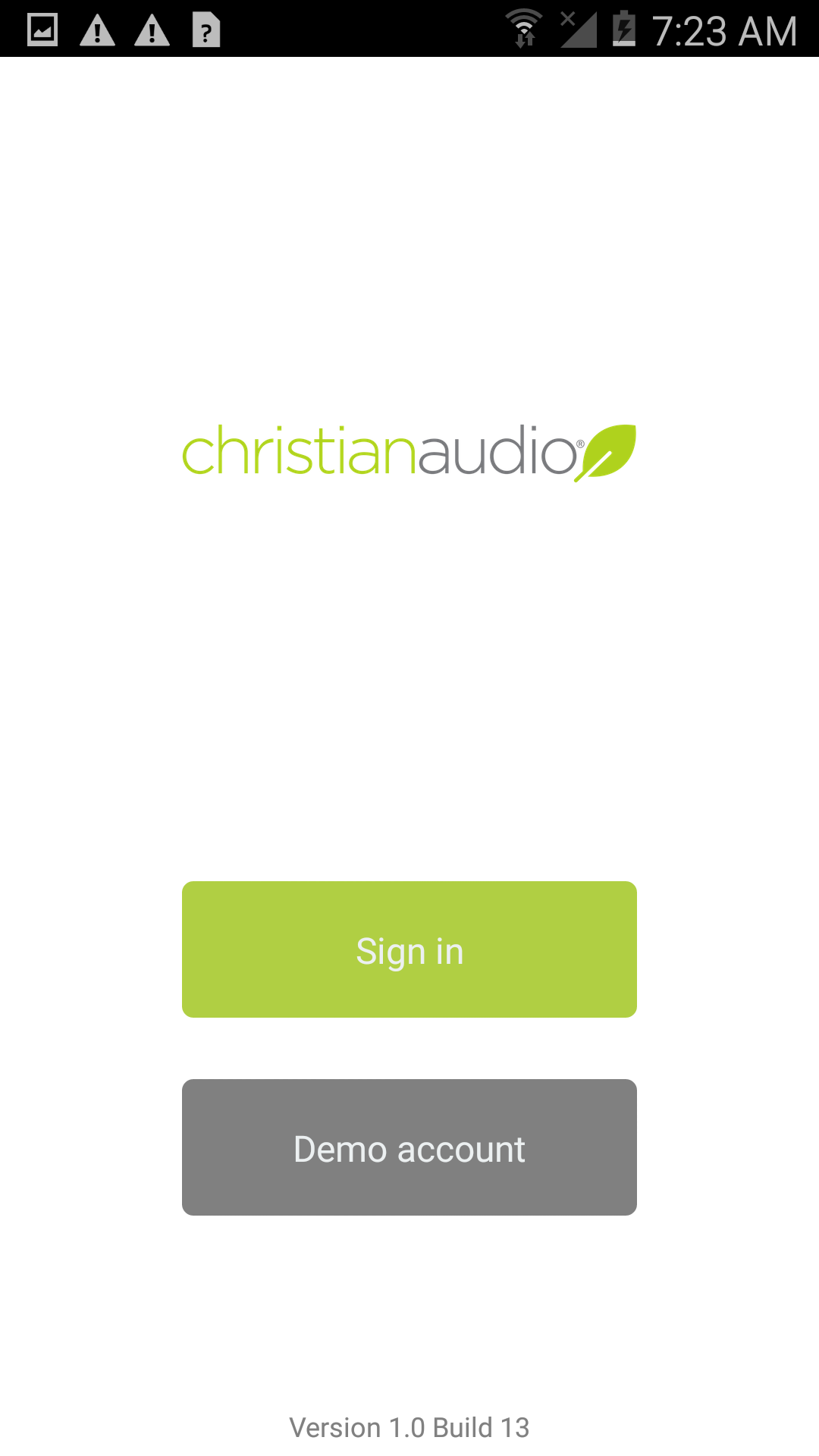 11. Type in your email address and password for your christianaudio account.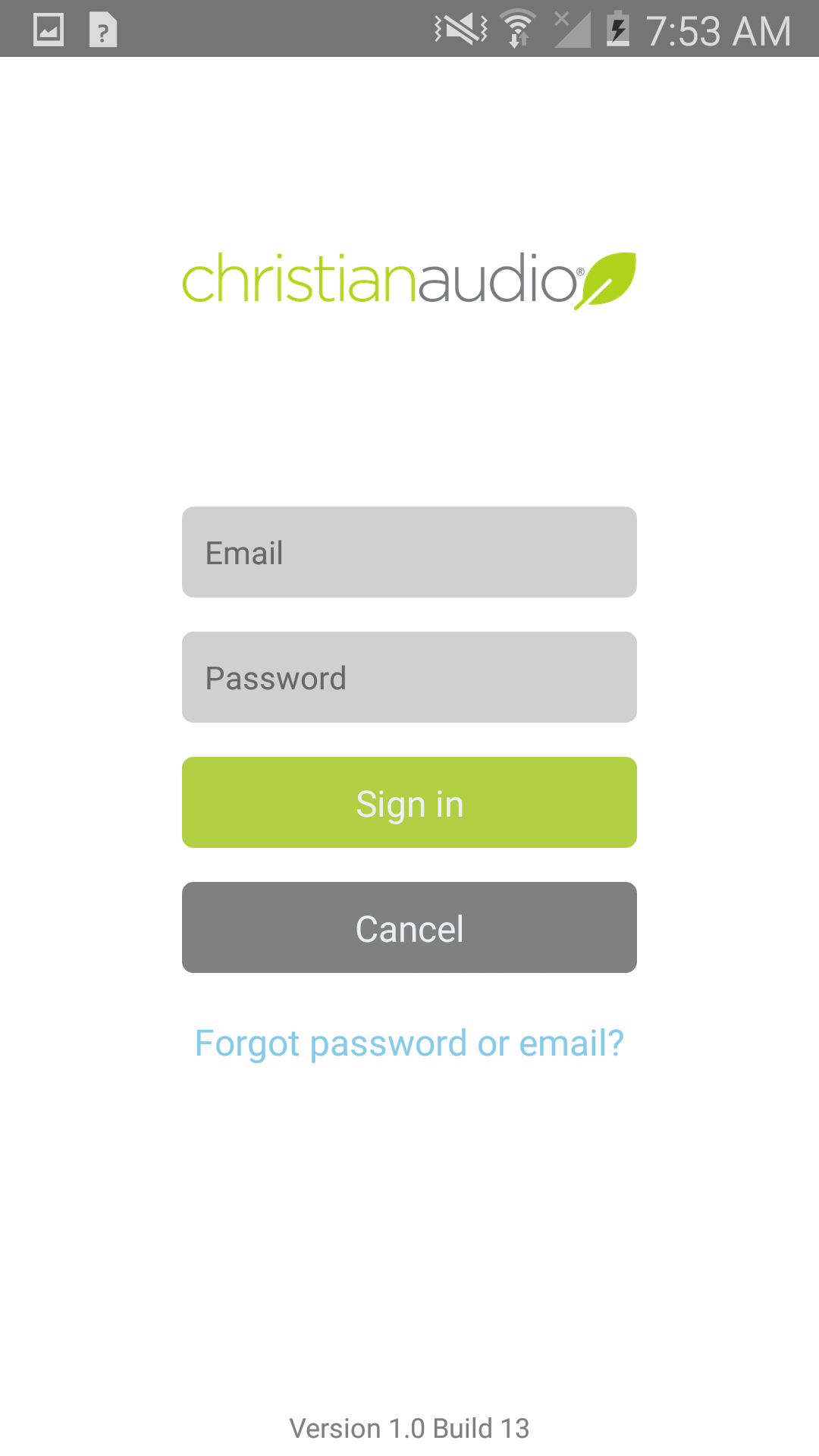 12. You will see your My Library.
- Please note, if you have just made a purchase, you may have to Refresh your My Library. To do this, please select the "Refresh" button

located in the bottom of the App. 
- If you do not see your My Library, but see two audiobooks, Crazy Busy and A Place of Healing, you are in our Demo Account. To Sign Out of the Demo Account, tap Demo Account - Sign Out.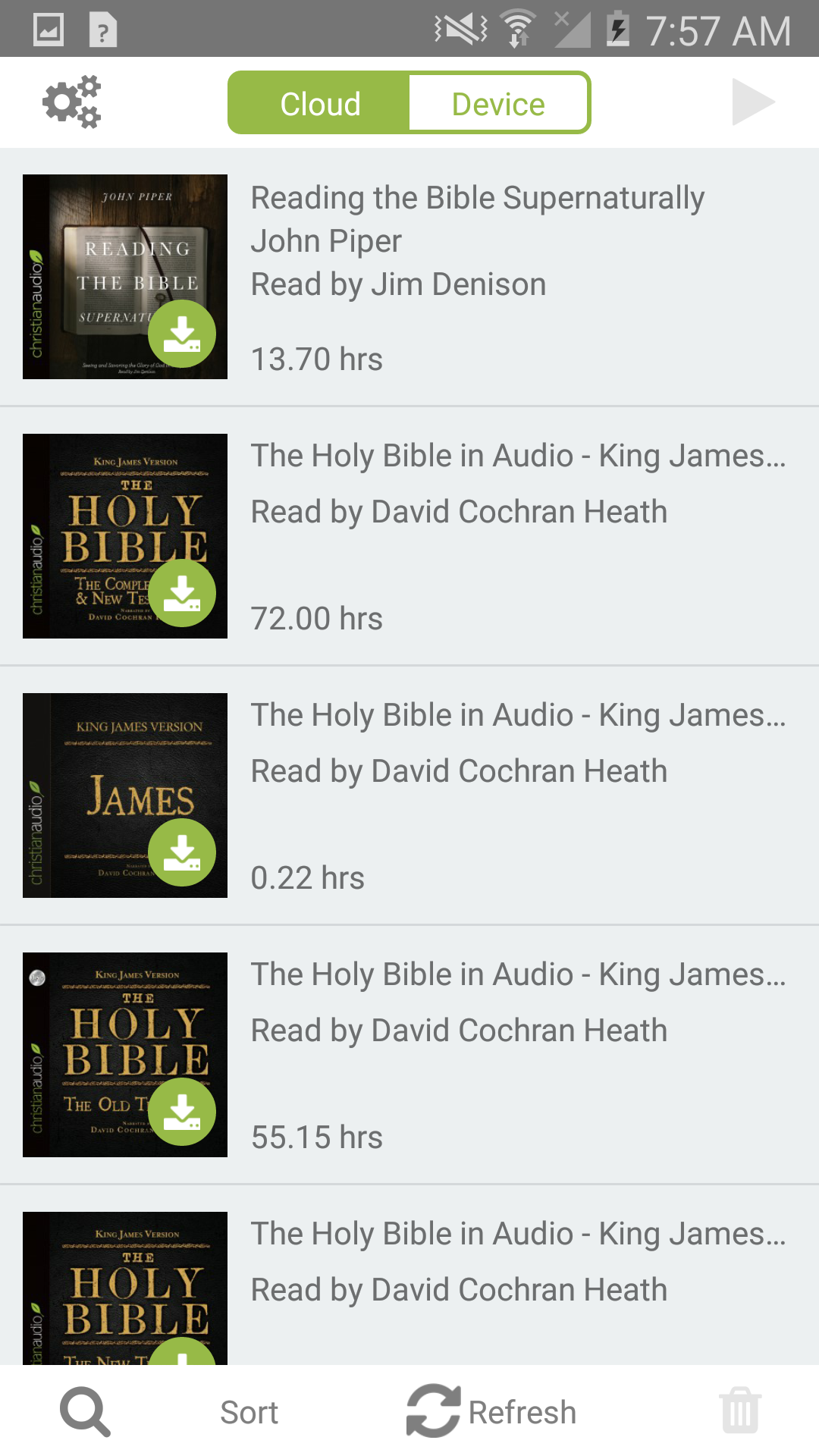 13. To Listen to an Audiobook, tap on any icon & press Download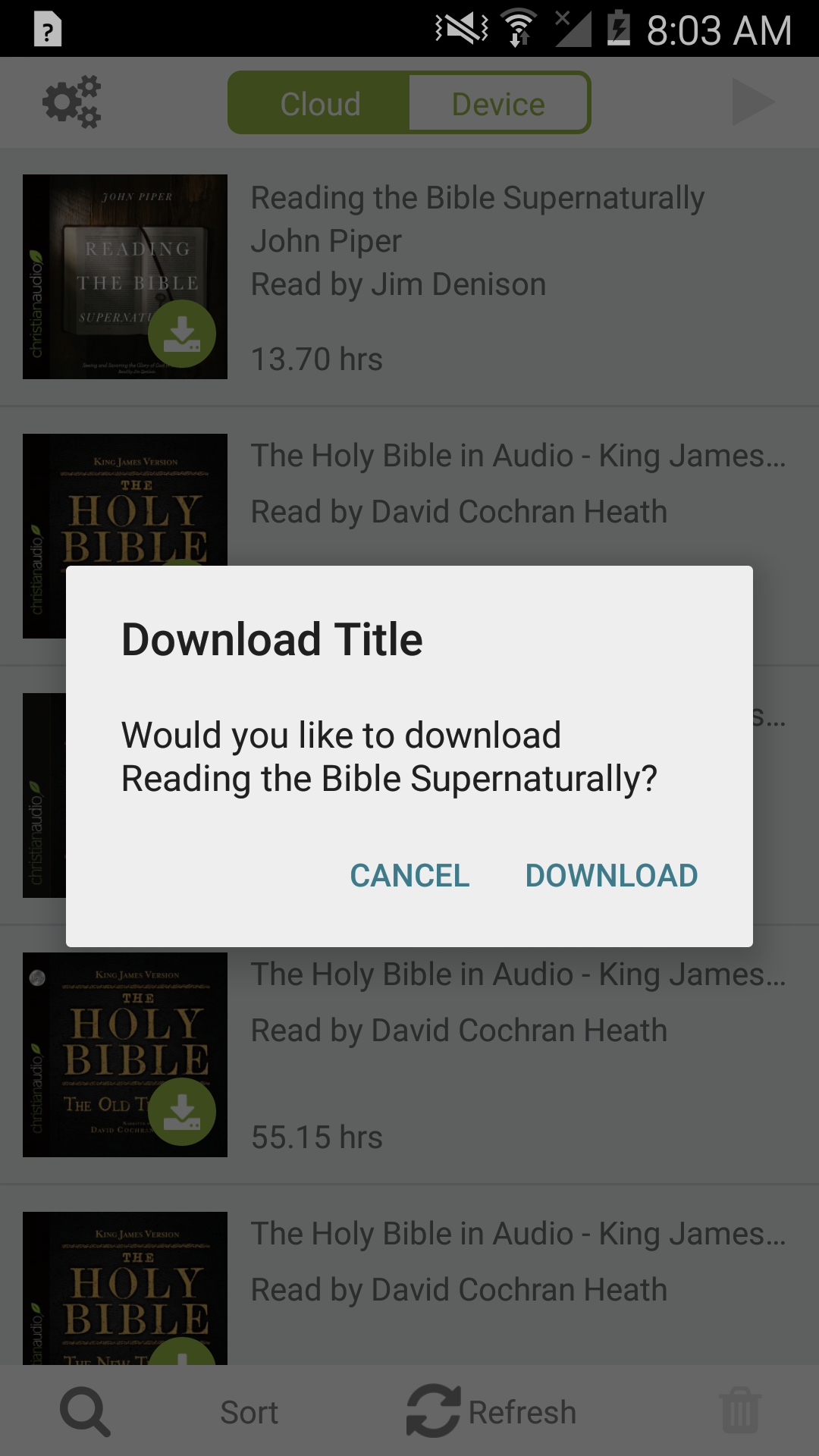 14. You will see the audiobook downloading. (Please note, you do not have to leave the App open, it will download on its own). 
* If at any point, you would like to stop the download tap on the icon: 
                1. To Stop Downloading, Press the Circle with the square in the center:

                2. To Resume Downloading, Press the Cloud with the down arrow: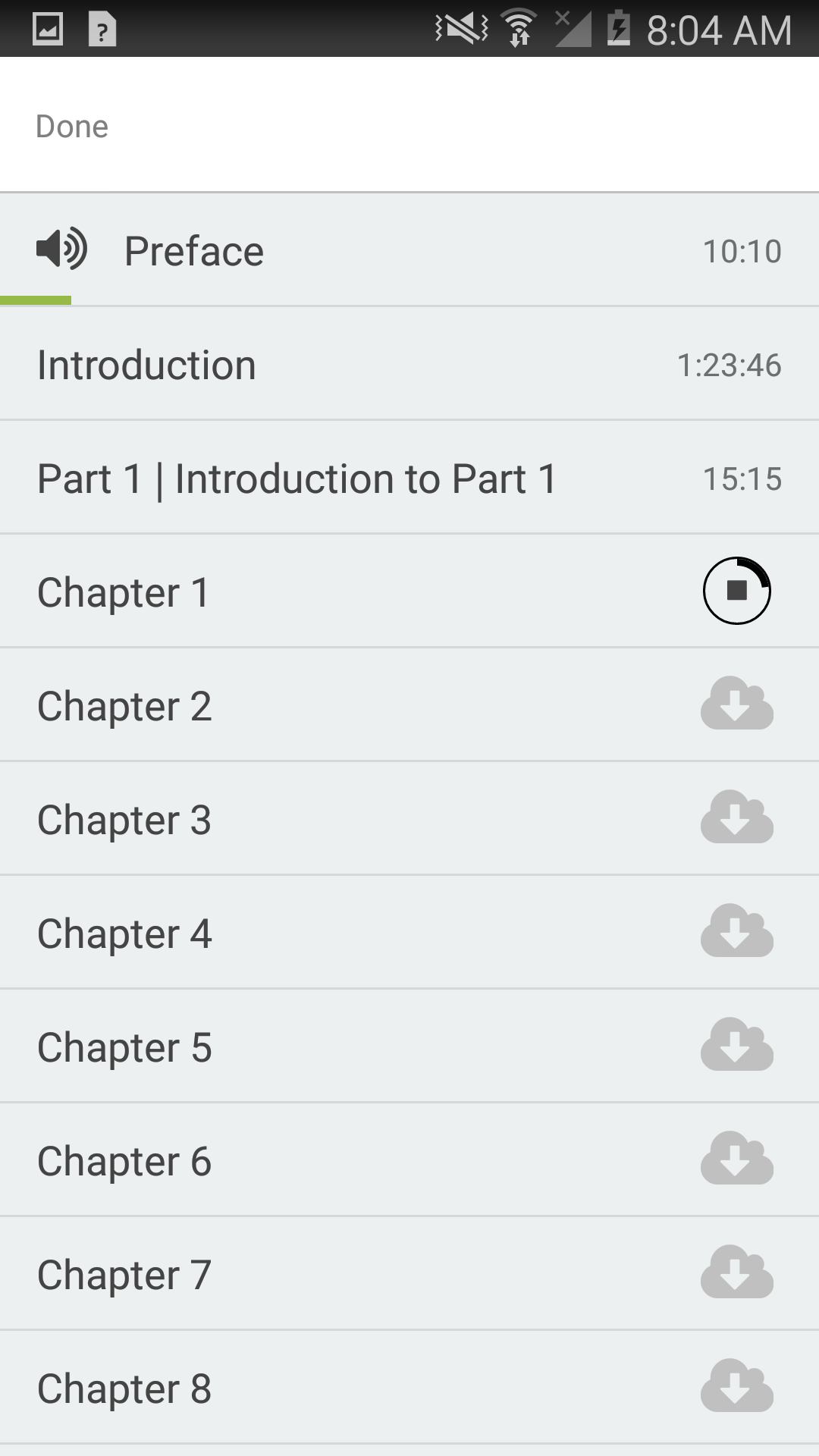 15. While playing the audiobook, there are also speed controls available. Tap on the Speed icon located in the bottom corner of the audiobook. (See Image Below). ** Please note, only an Android that has upgraded software of 6.0 or higher will see the Speed Controls.
16. To go back to your My Library, tap on the 3 horizontal lines in the upper right corner.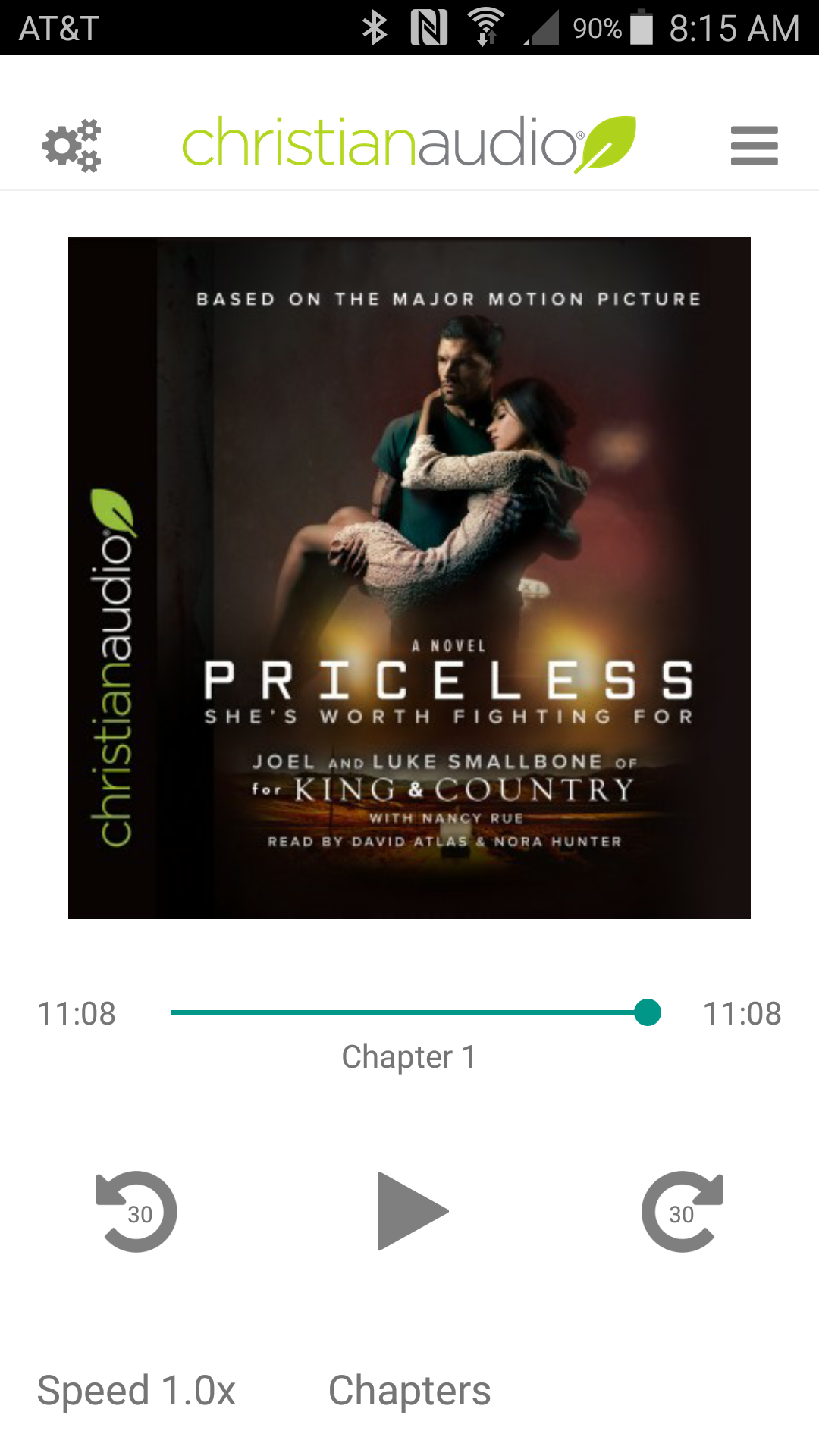 17. To Log Out or Stop Using Cellular, Tap on Settings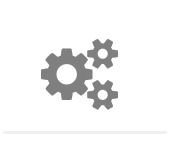 (Located in the upper right Corner of the My Library screen).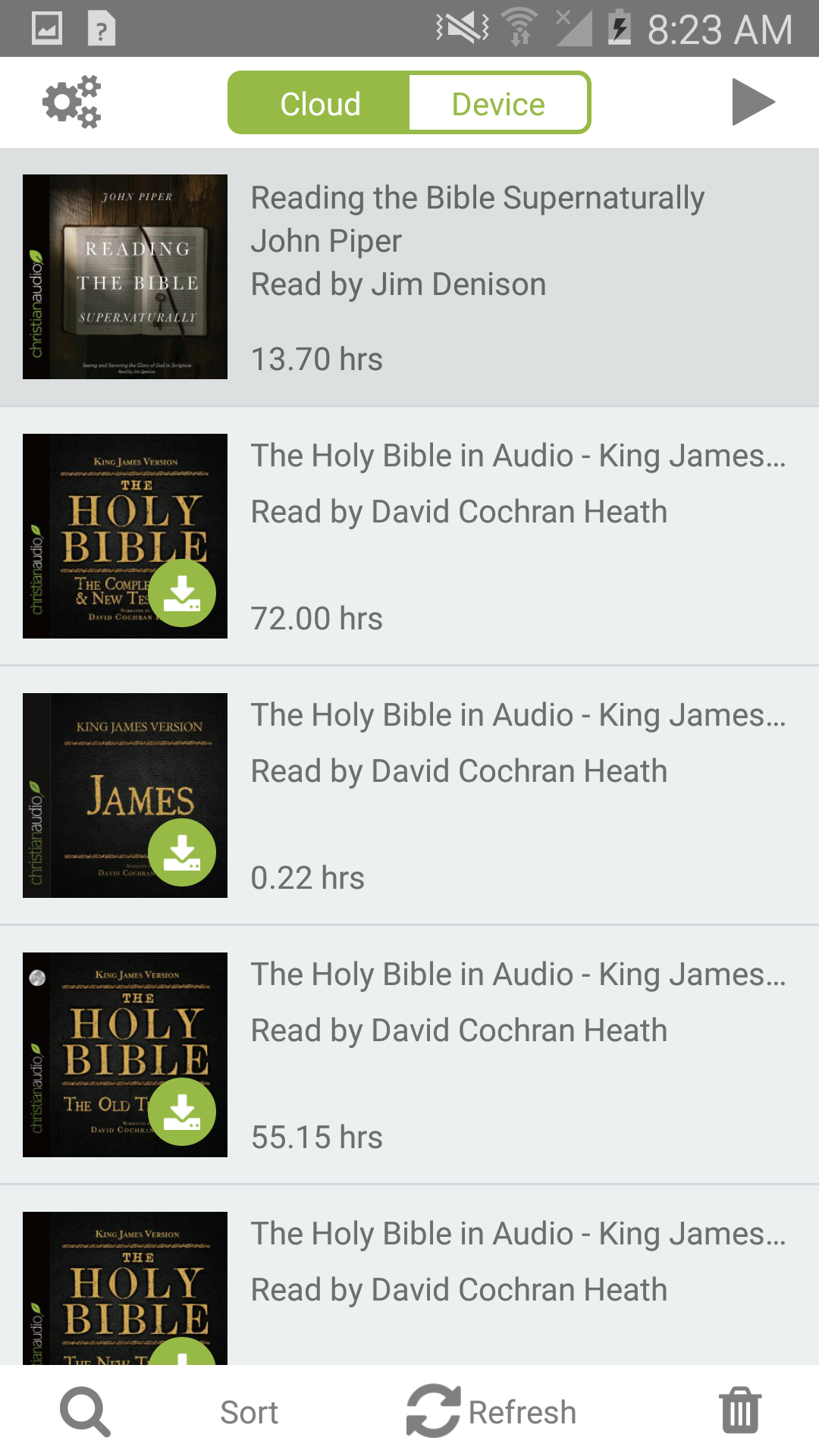 18. To Stop Using Cellular, toggle on Cellular Downloads. To Log Out tap on Logout.